02/13/23
Top Diamond Jewelry Trends in 2023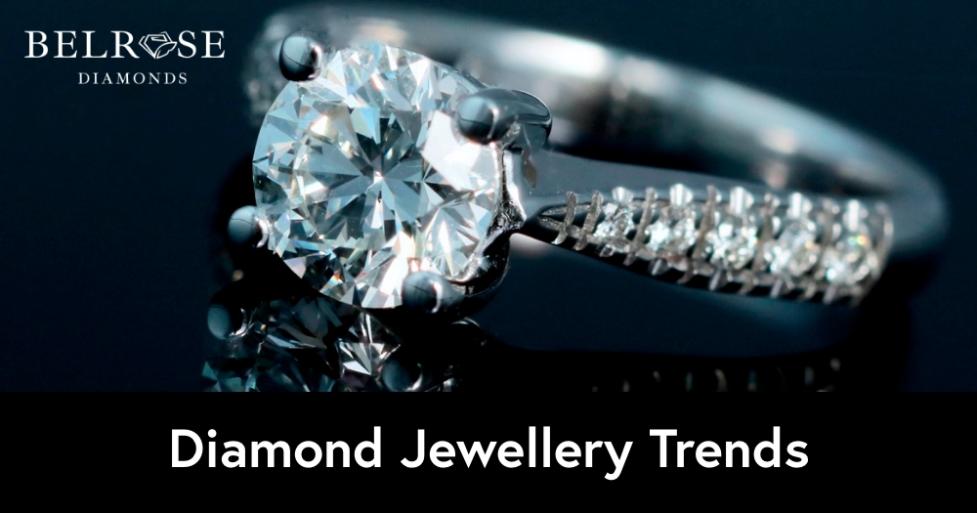 Diamond jewelry has been a common choice among both men and women. Diamonds are said to be a girl's best friend, and there are numerous designs that can be purchased. Diamond jewelry can be used to show off your style, from bejeweled earrings to diamond jewelry with corresponding bracelets and rings.
Diamonds are available in a variety of forms and sizes, ensuring that there is something for everybody. Let's talk about the latest diamond jewelry trends that will be eye-catching in 2023 in this article.
What to Keep in Mind While Looking Out for Diamonds
If it is your first purchase of diamonds, here are a few pointers that you should be mindful of:
When purchasing a diamond for the very first time, it is critical to conduct extensive research. You can consider purchasing a diamond in a variety of places, but only one of them will give you what you need. You want a reputed and reliable

diamond trader

who has been in the business for a long time and has a lot of positive feedback from happy customers.
Working with a retailer who has been in the business for a long time and has a reputation for selling expensive diamonds is the best way to ensure you get a high-quality diamond.
Keep an eye out for salespeople who use high-pressure tactics or try to sell their products at ridiculously low prices. These sales representatives may be attempting to sell faulty or stolen merchandise. They'll say almost anything to get rid of their stockpile as soon as possible before anyone discovers what they're doing wrong or illegally.
Also Read: Top 5 Diamond Jewelers in Dubai
That being said, let's take a look at a few of the top trending diamond jewelry trends:
Hottest Diamond Jewelry Trends for 2023
1.  Emergence of Aurora Borealis
The Aurora Borealis is a rare and stunning natural phenomenon caused by charged particles colliding with atoms in the atmosphere. Because it takes place at higher elevations in the northern hemisphere, it can be seen from Earth.
The aurora borealis appears to be most visible at night and can be green, red, or purple depending on where it originates. Because enthused oxygen atoms absorb the energy from electrons, the most popular choice for an aurora is green. The brightness, however, varies because they can seem brighter compared to any other organically emitted light.
When purchasing this trendy design element, make sure to go with a reputable diamond retailer. They have a large selection of certified diamonds graded by the Gemological Institute of America and the American Gem Society.
2.  Floral Shapes and Designs in Trend
Flower shapes and designs complement diamond jewelry well. Floral shapes are popular in diamond jewelry these days. The flower represents love, beauty, and joy, so it's no surprise that many women prefer this form for diamond rings or wedding bands.
Flower shapes are a great way to express yourself through the ring you wear every day. It has so much detail that every time you see it, it will remind you of something special in your life.
Selecting a floral shape for your ring is an excellent way to make it stand out.
Diamonds are very often linked with romance due to their beauty, so it stands to reason that you'd want to incorporate this emblem of love into your engagement ring.
3.  Rose Gold Overtakes White Gold
Because of its durability, rose gold is a viable substitute for white gold. Rose gold is a combination of copper and gold, which makes it more resilient than pure yellow or white metals.
As a result, rose gold jewelry can be known to be worn for several decades without displaying wear and tear signs, unlike other different kinds of jewelry that may. Furthermore, if you buy your diamond jewelry from a reputable retailer, you will not have to worry about replacing it as frequently as you would with colored metals like silver or platinum.
Rose gold is more costly than conventional silver or yellow metals like 14 k white gold and 18 k yellow gold, but it is still less expensive than platinum. This makes it a perfect choice for your diamond jewelry.
Also Read: How to Buy Diamonds in Dubai?
4.  Halo Arrangements Become a Top Choice for Diamonds
The public is becoming more interested in halo settings. A halo seems to be a circle of small diamonds set around the center stone. It's one of the best methods for attracting attention to your diamond.
Reasons for the popularity of Halo arrangements
Halo settings are popular for wedding rings because they are both absolutely gorgeous and unchanging, but they also have an additional benefit.
They may be less expensive than standard solitaires. As a result, they are perfect for individuals who want something beautiful without breaking the bank.
The same goes for engagement rings. The elegance of a ring such as this is difficult to match. This is particularly true if you desire something conventional to go with any costume or occasion while also being unique enough to leave a lasting impression on everyone who sees something on your finger.
So according to Credit Donkey, the average American man spends $5,225 on an engagement ring.
Anniversary rings also work well here. The smaller stones that surround each other add just the right amount of sparkle while also trying to remain elegant enough to not interfere with anyone else's view.
Also Read: Diamond Price in Dubai
Final Verdict
While many think buying diamonds can be a stressful job, the reality is far different. Gone are the days when you'd have to brainstorm and make plans to purchase diamonds. Given the advancements that we have today, things have become so seamless, and so has purchasing the brightest stones, diamonds.
Summarizing the top diamond jewelry trends for 2023:
Aurora Borealis Emerges as a Popular Diamond Designing Element
Rise of the popularity of flower shape and designs with diamond jewelry
Rose gold to overtake white gold for diamond jewelry
Halo arrangements to gain popularity for diamond jewelry.
The popularity of lab-grown diamonds over natural diamonds.