02/10/23
Diamond Price in Dubai: Complete Guide 2023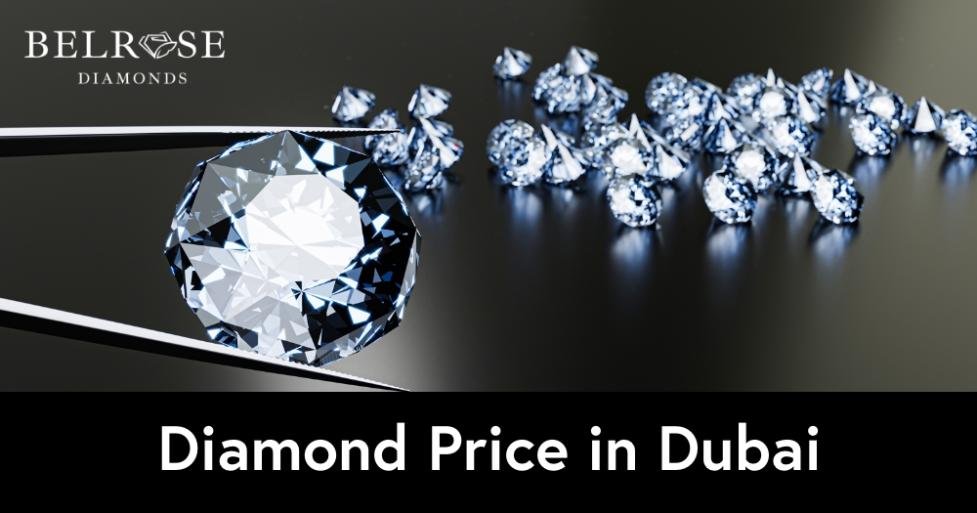 Diamonds have always been a symbol of luxury, elegance, and opulence. They are often used to mark special occasions such as engagements, weddings, and anniversaries. Dubai is a city known for its extravagant lifestyle, and it is not surprising that it is a hub for the diamond trade. Here, we will provide a complete guide to diamond prices in Dubai in 2023. Here is an ultimate guide on how to buy diamonds in Dubai.
Factors Affecting Diamond Prices in Dubai
Several factors influence the price of diamonds in Dubai, including:
● Cut: A diamond's cut is its most important feature, as it determines its brilliance, sparkle, and fire. The better the cut, the more expensive the diamond.
● Carat weight: Carat weight is a measure of a diamond's size. The higher the carat weight, the more expensive the diamond.
● Clarity: Clarity refers to the presence of flaws or blemishes within a diamond. The fewer the flaws, the more expensive the diamond.
● Color: The color of a diamond can range from colorless to yellow or brown. The more colorless the diamond, the more expensive it is.
● Certification: Diamonds that have been certified by reputable organizations such as the Gemological Institute of America (GIA) or the HRD are generally more expensive.
Diamond Prices in Dubai
In Dubai, prices for diamonds vary depending on the factors mentioned above. As per the current scenario, the average price of a 1-carat diamond in Dubai is approximately AED 16,500 to AED 22,000 (USD 4,500 to USD 6,000).
However, prices can range significantly depending on the quality of the diamond. For example, a 1-carat diamond with a VVS1 clarity and an excellent cut can cost upwards of AED 40,000 (USD 11,000). On the other hand, a 1-carat diamond with an SI2 clarity and a fair cut can cost as little as AED 9,000 (USD 2,500).
It is essential to note that diamond prices in Dubai can fluctuate due to various factors, including changes in the global diamond market and the exchange rate. Therefore, it is always advisable to conduct thorough research before making a purchase.
Where to Buy Diamonds in Dubai
Dubai is home to several reputable diamond dealers and jewelers. Here are some of the most popular places to buy diamonds in Dubai:
Belrose Diamonds: Belrose Diamonds is an online diamond supplier that operates in Dubai and around the globe. It is a popular option for those looking to purchase diamonds from the comfort of their homes.
Gold Souk: Gold Souk is a traditional market in Dubai that has been selling gold and diamonds for over a century. It is a popular destination for tourists and locals alike.
Dubai Mall: The Dubai Mall is one of the largest malls in the world and home to several high-end jewelry stores.
Mall of the Emirates: The Mall of the Emirates is another popular shopping destination in Dubai that features several luxury jewelry stores.
Also Read: Top 5 Diamond Jewelers in Dubai
Conclusion: Diamond Rate in Dubai
Diamonds are a valuable investment and a symbol of luxury. Investing in diamonds can be a wise decision as they have historically retained their value and even appreciated over time. However, it is important to do thorough research and only purchase diamonds from reputable dealers to ensure their authenticity and quality.
Dubai offers a wide range of options for diamond buyers and retailers, comprising from high-end luxury boutiques to wholesale diamond markets. Whether you are looking to purchase a stunning piece of jewelry or add to your investment portfolio, Dubai's diamond trade is a promising destination. With its reputation for quality, transparency, and excellent customer service, Dubai has established itself as a global leader in the diamond industry.
FAQ's: Diamond Cost in Dubai
How much does a 1-carat diamond cost in Dubai?
The price of a 1-carat diamond in the UAE is AED 16,500 to AED 22,000. Well, the price of the diamond in Dubai changes most frequently. So, you need to check it from time to time before planning to buy.
Will diamond prices go down?
Well, diamond prices fluctuate from time to time. So, there's the possibility that its price may increase or decrease over time. In the wholesale market, diamond prices are based on the unit of weight, which is termed per carat. As per the data, diamond prices decreased by an average of 7.7% last year in December.
What time of year are diamonds cheaper?
There's no specific time in the year when diamonds get cheaper. You need to constantly keep your eyes on the diamond market. It will help you get the best deal while buying diamond jewelry products. You need to know that before any festive season, the diamond jewelry price in Dubai tends to go up. Therefore, the best time to purchase the diamond product is between May to August. Meanwhile, you can find a lucrative deal in Dubai throughout the year while buying a diamond. All you need to do is to approach only a genuine and reputed brand.
Are diamonds much cheaper in Dubai?
Yes, diamonds are much cheaper in Dubai compared to any other country across the world. The main reason for this is the government doesn't impose any tax here for selling these items. So, customers don't need to pay taxes on buying diamonds. And it makes the diamond price much cheaper in Dubai.